Slice of Life 2023 - Let's Do This Together!
Make this the year you achieve your health goals and let us help! Let's do this together! We team with Virgin Pulse to offer the Slice of Life program with tools, support and rewards* for participating in wellness activities to get healthy your way. You choose the health topics and goals that matter most to you, and this innovative program will automatically personalize to provide you with information, coaching support, activities and challenges that can help you achieve those goals.
Achieving optimal health means feeling your best mentally as well as physically. We are pleased to provide you with the LifeResources Employee Assistance Program (EAP) powered by ComPsych Guidance Resources. This valuable program is available to you, your eligible dependents and household members. The EAP provides a variety of services to help with work-life issues big or small, meeting you where you are in life.
The perfect complement to Slice of Life and LifeResources EAP, HealthTrust 360 resources and programs help you manage health conditions, access healthcare services when and where you need them, and make informed treatment decisions.
Good health happens one smart decision at a time. If you are a medically covered HealthTrust Enrollee, Retiree or spouse, log in to your secure account and click on the Slice of Life Programs link to learn more about the many resources available to help you achieve your health goals in 2023.
*Please note: The amount of any cash and the value of any other wellness incentive rewards received from HealthTrust are taxable to the recipient for federal income tax purposes.
Slice of Life - Annual Key Action Rewards
Earn up to $75 in Pulse Cash by completing the following three key action steps once this year.
Slice of Life - Quarterly Earning Opportunities
Earn up to $100 in Pulse Cash/quarter, up to $400 in Pulse Cash/year
It's simple! Do healthy things, earn points and get rewards! The more healthy activities you do, the more points you can earn, helping you climb to higher point levels. As you complete each level, you can qualify for "Pulse Cash." Healthy activities can include tracking, reading daily cards, joining challenges, working with a health coach and much more. What you do is up to you!
LifeResources Employee Assistance Program, powered by ComPsych
The LifeResources Employee Assistance Program (EAP), powered by ComPsych, is a one-stop, multi-service resource available 24 hours every day to help you manage stressful situations and stay in charge of your life. Access free services including counseling sessions, consultations with a lawyer or financial expert, life coaching, information and referrals for a wide range of everyday services such as finding child or elder care, hiring movers or home repair contractors, and more.
Computerized Cognitive Behavioral Therapy (CCBT) tools and resources. The digital self-care platform includes guided programs for anxiety, depression, mindfulness, sleep improvement, stress, resilience, and more.
WellthSource. This digital financial wellness platform offers interactive tools, resources, and guided programs on key areas of financial well-being 24/7 to help users create a well-planned, flexible and sustainable lifestyle of healthy financial choices and habits.
On-site and virtual trainings by a LifeResources expert are available to Member Groups.
To contact the LifeResources Employee Assistance Program call 800.759.8122.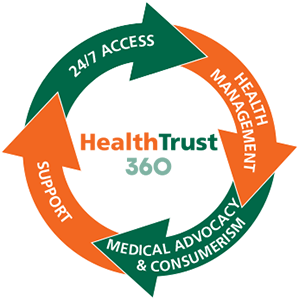 HealthTrust 360
HealthTrust 360 programs and resources help you manage health conditions, access healthcare services when and where you need them, and make informed treatment decisions.
Whether you are seeking support for a behavioral health issue, want a second opinion about a new diagnosis, need help managing diabetes, want to explore options for care in your area, or for many other issues, HealthTrust 360 resources can help. You can even access some medical or behavioral health services without leaving your home!
HealthTrust 360 resources and programs, provided in collaboration with our vendor partners, are voluntary, confidential, and available to qualifying individuals covered by a HealthTrust medical plan.
If you are covered by a HealthTrust medical plan and would like more information about any of these programs, log in to your account on HealthTrust's Secure Enrollee Portal and click on the Slice of Life Programs link. You can also visit our vendor partner websites and/or contact our vendor partners at the phone numbers listed below.
Corigen Medication Safety Program
Medications don't work the same for everyone. The Corigen® Medication Safety Program, available through HealthTrust in collaboration with Coriell Life Sciences (CLS), can help providers tailor treatment to an individual's genetic makeup, medical conditions, medications, and lifestyle. Participants in the program can find out if medications they take now or could take in the future are identified as being safe and effective for them, based on their DNA and lifestyle factors, potentially reducing their risk of side effects and adverse reactions and improving how they feel every day.
Voluntary, confidential program
Individuals enrolled in a HealthTrust medical and prescription drug plan are eligible to participate at no cost to them.
Enrollees in a Medicomp Three plan that does not include prescription drug coverage are not eligible for the Medication Safety Program.
SmartShopper
Earn $25 to $500 for choosing a cost-effective provider for your doctor-referred medical services.
Shop online or by phone in less than 5 minutes.
Shop before your visit -- even as late as the same day.
Learn the truth about medical costs.
See options for health services in your area.
Confidential, voluntary.
Available to Enrollees with HealthTrust medical coverage. (Individuals with Medicomp Three coverage are not eligible for SmartShopper.)
To start shopping now, log in to your secure online account, and click the SmartShopper button.
Included Health
Included Health (formerly Grand Rounds) is a benefit available through HealthTrust to individuals enrolled in a HealthTrust medical plan (except Medicomp Three). Included Health can connect you to a personal care team that can help you:
Access second opinions from top experts around the country.
Find top doctors in your area, book appointments, gather medical records and handle all the details - at no cost to you.
For more information or to create your account: 855.633.8341, includedhealth.com/healthtrust
LiveHealth Online
Visit with a board-certified doctor 24/7, from anywhere you have a device with Internet access and two-way camera, no appointments necessary!
Visit with in-network licensed psychologists and therapists by appointment.
Covered by all HealthTrust medical plans (except for Medicomp Three); cost to you is typically not more than your usual copay.
Register and create your profile at www.livehealthonline.com today so you can access help as quickly as possible when you need it.
CVS Caremark Transform Diabetes Care
The CVS Caremark® Transform Diabetes Care® program, available through HealthTrust, provides enhanced resources and extra benefits to make managing diabetes easier for eligible individuals enrolled in a HealthTrust medical plan that includes prescription drug coverage provided by CVS Caremark.
Participants in this voluntary, confidential program may receive:
A free blood glucose meter, test strips and lancets.
Help managing and staying on track with medications.
Reminders about important health screenings and tests.
Guidance on healthy nutrition and lifestyle habits.
For more information about this program, contact CVS Caremark at 800.348.5238.
Lark Diabetes Prevention Program
About one out of every three American adults is at risk for developing diabetes. The Lark Diabetes Prevention Program (DPP), offered in collaboration with Anthem and Lark, is available free to medically covered individuals age 18 and older* (excluding Medicomp Three retirees) who are at risk for prediabetes (high blood sugar levels that indicate an increased risk for developing type 2 diabetes).
Lark is an Artificial Intelligence (AI) healthcare information program that includes 24/7 digital coaching to provide support, resources and personalized text messages based on an individual's lifestyle through the Lark mobile app as well as a free, wireless scale upon enrollment. Through these and other resources, the Lark program helps participants:
Lose weight
Eat healthier
Increase activity
Sleep better
Manage stress
You can find out if you qualify for the Lark DPP by clicking the link to take a one-minute survey: www.lark.com/anthem. If you do qualify, you can participate in the program at no cost to you.
*Please note: Individuals covered by a Medicomp Three plan are not eligible to participate in the Lark Diabetes Prevention Program.
CVS Caremark Accordant Specialty Care
CVS Caremark Accordant® Specialty Care is available at no cost to covered individuals who have certain autoimmune or genetic conditions and who are enrolled in a HealthTrust medical plan that includes prescription coverage provided by CVS Caremark®. An Accordant Specialty Care nurse and a resource specialist can help you make healthy lifestyle changes, spot risks early, find support in your own community and use digital tools to track your health, all at no cost to you.
844.905.0855 | www.accordant.com
Aware Recovery Care
Aware Recovery Care's Addiction Recovery Program is an innovative, evidence-based program available to HealthTrust medically covered Enrollees age 17 and older suffering with substance use disorders. The program, offered in collaboration with Anthem, includes the following services:
In-home recovery care for individuals with substance use disorders
Up to 52 weeks of services from a multidisciplinary treatment team
Coordination of additional services -- legal, physical therapy, and more
Daily recovery guidance and support
For more information, call 844.AwareRC (603.769.8463) or visit www.awarerecoverycare.com.
Anthem's Health Management Programs
Building Healthy Families: Support online and by phone related to fertility, healthy pregnancies, infant care, parenting, and more. Enroll via the Sydney Health mobile app or click on the Anthem button on your Secure Enrollee Portal home page.
ConditionCare: Support for managing a chronic condition (866.596.9812)
ComplexCare: Help with coordinating multiple care providers
24/7 NurseLine: 800.337.4770 (toll-free).